About the $100 Million Survey
The goal of this survey is to collect data on $100 million of economic production by businesses that operate below the radar of the traditional business community.
All data collected is anonymous. The results of this survey will be published at this site and distributed as far as possible to raise the profile of the microbusiness community.
Click here to learn more.
Support for the $100 Million Survey
Outright
automates bookkeeping by gathering your sales & expenses all in one place. It makes taxes a snap. But our favorite part? Knowing where you stand with your income goals, instantly.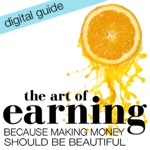 The Art of Earning
is the digital guide to making money beautiful. It's a transformative resource for rewriting your money story. Part personal journey, part new economy philosophy, it's sure to shift your perspective.
Tweet the Survey
"Stand up & be counted, microbusiness owners! Takes the $100 Million Survey: http://100millionsurvey.com #100MilS"
Click to tweet!
Contact
Want to help spread the word about the $100 Million Survey? Want to know more? Contact Megan at info AT 100millionsurvey DOT com.